Projekt Mapping
Im Rahmen der ersten Jahresberichte wurden die SPHN-Projektverantwortlichen gebeten, über das Vorankommen der Infrastruktur Projekte im Jahr 2018 zu berichten. Dadurch konnte die Forschungsorientierung sowie der Umsetzungsgrad der verschiedenen Projekte erruiert und illustriert werden, was zusätzlich ermöglichte eine erste Gap-Analyse durchzuführen.
Das Mapping der Projekte zeigte, dass viele der SPHN relevanten Bereiche abgedeckt sind. Lücken bestehen dagegen sowohl in den Bereichen  "patienten- oder bürgerorientierte Forschungsinfrastrukturen" als auch im Bereich "Nationale Repositorien, Technologie- und analytische Netzwerke" (siehe Diagramm in EN). Die vollständigen Projektnamen werden sichtbar wenn Sie mit der Maus über die Abkürzung gleiten.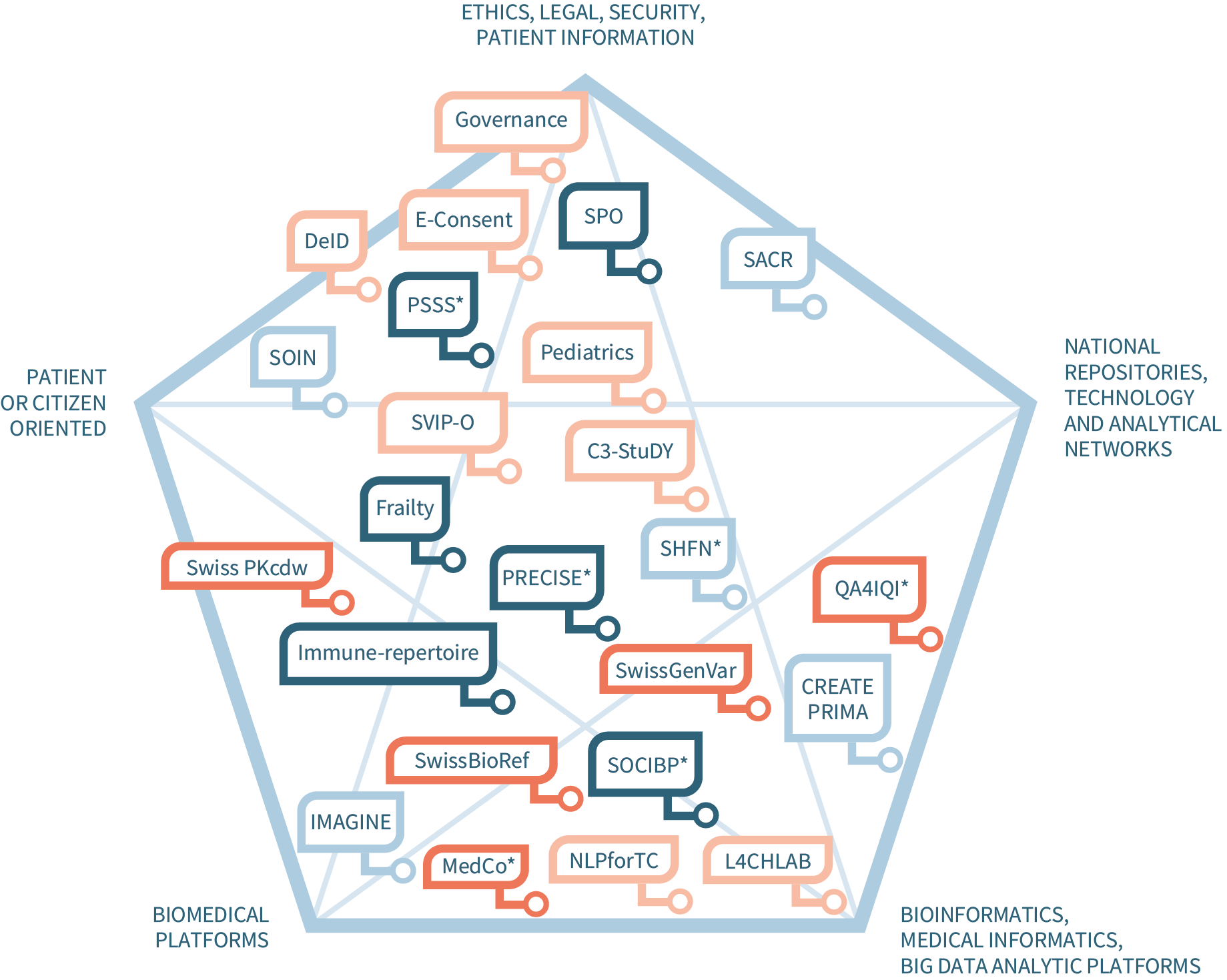 Development of a governance and quality management system for exchange of patient related data for research purposes
Development and Implementation of a Nationwide Harmonized Interactive Electronic General Consent
De-identification of clinical narrative data in French, German and Italian
Swiss Variant Interpretation Platform for Oncology
Harmonising the collection of health-related data and biospecimens in paediatric hospitals throughout Switzerland
Citizen Centered Consent: Shared, Transparent and Dynamic
NLP-powered mapping of clinical reports onto SNOMED-CT concepts for tumour classification
LOINC for Swiss Laboratories
Swiss Ophthalmic Imaging Network
The Swiss Ageing Citizen Reference
SWISSHEART Failure Network
Clinical Research from multi-modality big data sources without proprietary interfaces in a multicenter approach
Radiomics for comprehensive patient and disease phenotyping in personalized health
Swiss Personalized Oncology
Swiss Frailty Network and Repository
Personalized Swiss Sepsis Study: Detection and modelling of sepsis using machine learning to analyse continuous ICU monitoring, laboratory, microbiology, and -omics data for personalized sepsis management
Identification of biomarkers and therapeutic targets in inflammatory disease immunotherapy by high-dimensional single cell analysis and cluster proteomics
Population-wide screens of the human immune repertoire: a reverse personalized-medicine approach
Swiss Molecular Pathology Breakthrough Platform
Optimising paediatric dosing regimens based on a clinical data warehouse
Quality Assessment for Interoperable Quantitative CT-Imaging
A platform for clinical grade interpretation of genetic variants to foster personalized health care in Switzerland
Personalized reference values for precision medicine
Enabling the Secure and Privacy-Preselving Exploration of Distributed Clinical and *Omics Cohorts in the SPHN
Infrastruktur Entwicklungsprojekte 2018
Infrastruktur Entwicklungsprojekte 2017
* Projekte die durch SPHN und PHRT ko-finanziert sind.
Quelle: Jahresberichte 2018 der SPHN-finanzierten Projekte

Projektzusammenarbeit
24 SPHN Treiber- und Infrastruktur Entwicklungsprojekte:
Insgesamt 35 Schweizer Organisationen und Institutionen tragen zur Entwicklung von Forschungsinfrastrukturen bei.
13 Infrastruktur Entwicklungsprojekte:
Entwicklung und Erprobung neuer Technologien, Methoden und Infrastrukturen an einzelnen und/oder projektzugehörigen Standorten. Nach dem Wirksamkeitsnachweis ('Proof of Concept') sollen sie anderen Institutionen zur Verfügung gestellt werden (CHF 3.7 Mio).
11 Treiber Projekte:
Entwicklung des Swiss Personalized Health Network, durch das Testen und Vorantreiben der Infrastrukturen und der Interoperabilität in einer spezifischen Forschungsdomäne oder Pathologie. An jedem Treiber Projekt sind typischerweise mehrere "Datenlieferanten" beteiligt (vorwiegend Universitätsspitäler, aber auch Universitäten und Analyseplattformen) sowie "Datenempfänger". Letztere analysieren die Daten, die über das BioMedIT Netzwerk sicher von den "Datenlieferanten" zu den "Datenempfängern" übertragen werden. (CHF 21.6 million).
Um die Zusammenarbeit der einzelnen Projekte sichtbar zu machen, kann auf das Kürzel der Projektnamen geklickt werden (linke Spalte) Die Kurzusammenfassung kann mittels Klick auf den Projektnamen gelesen werden (über der Illustration).  
Übersicht Kollaborationen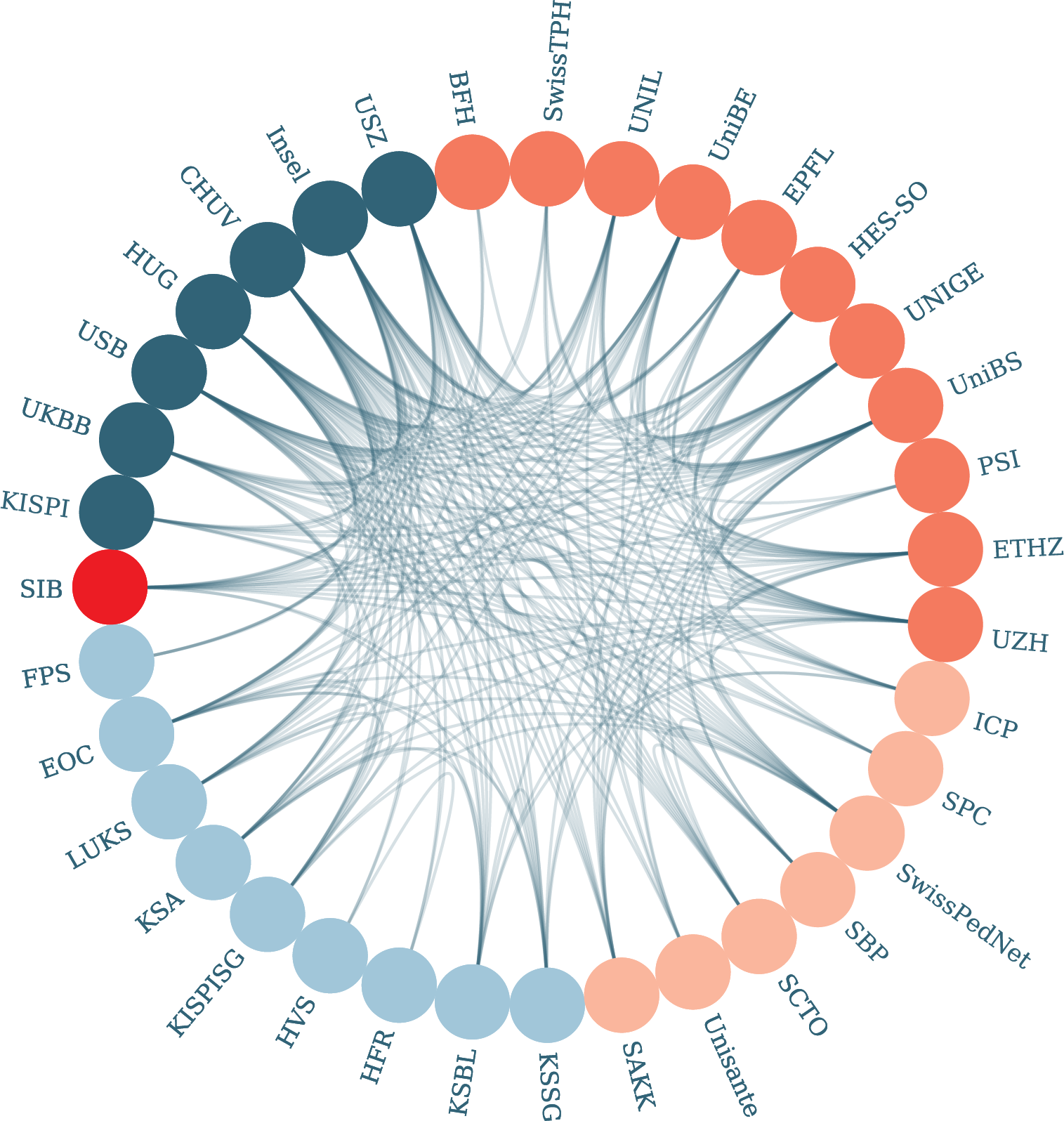 SIB Swiss Institute of Bioinformatics
Universitäts-Kinderspital Zürich
Universitäts-Kinderspital beider Basel
Hôpitaux Universitaires Genève
Centre hospitalier universitaire vaudois
Universitätsspital Zürich
Swiss Tropical and Public Health Institute
École polytechnique fédérale de Lausanne
Haute Ecole Spécialisée de Suisse occidentale
Eidgenössische Technische Hochschule Zürich 
Istituto cantonale di patologia
Schweizer Paraplegiker Zentrum 
Swiss Research Network of Clinical Pediatric Hubs
Swiss Biobanking Plattform
Swiss Clinical Trial Organisation
Centre universitaire de médecine générale et santé publique
Swiss Group for Clinical Cancer Research (SAKK)
Ostschweizer Kinderspital
Klinik für Kinder und Jugendliche, Kantonsspital Aarau
Ente Ospedaliero Cantonale
Universitäre Altersmedizin FELIX PLATTER

Quelle: Kurfassungen und Feedback der Projektverantwortlichen im November 2018.