Mapping des projets
Sur la base des premiers rapports annuels, il a été demandé aux projets soutenus par le SPHN de fournir des informations structurées sur les infrastructures construites en 2018, ceci en précisant les orientations de leur projet en matière de recherche ainsi que le degré de mise en œuvre. Ces informations ont été utilisées pour créer une première cartographie (mapping) et pour commencer une analyse des besoins.
Le mapping montre que de nombreux domaines sont couverts par les projets. Cependant, il semble que davantage d'activités dans les domaines "orienté vers le patient ou le citoyen" et "dépôts nationaux, technologie et réseaux analytiques" pourraient être nécessaires. Explorez le diagramme et survolez les abréviations des projets pour afficher le nom complet du projet.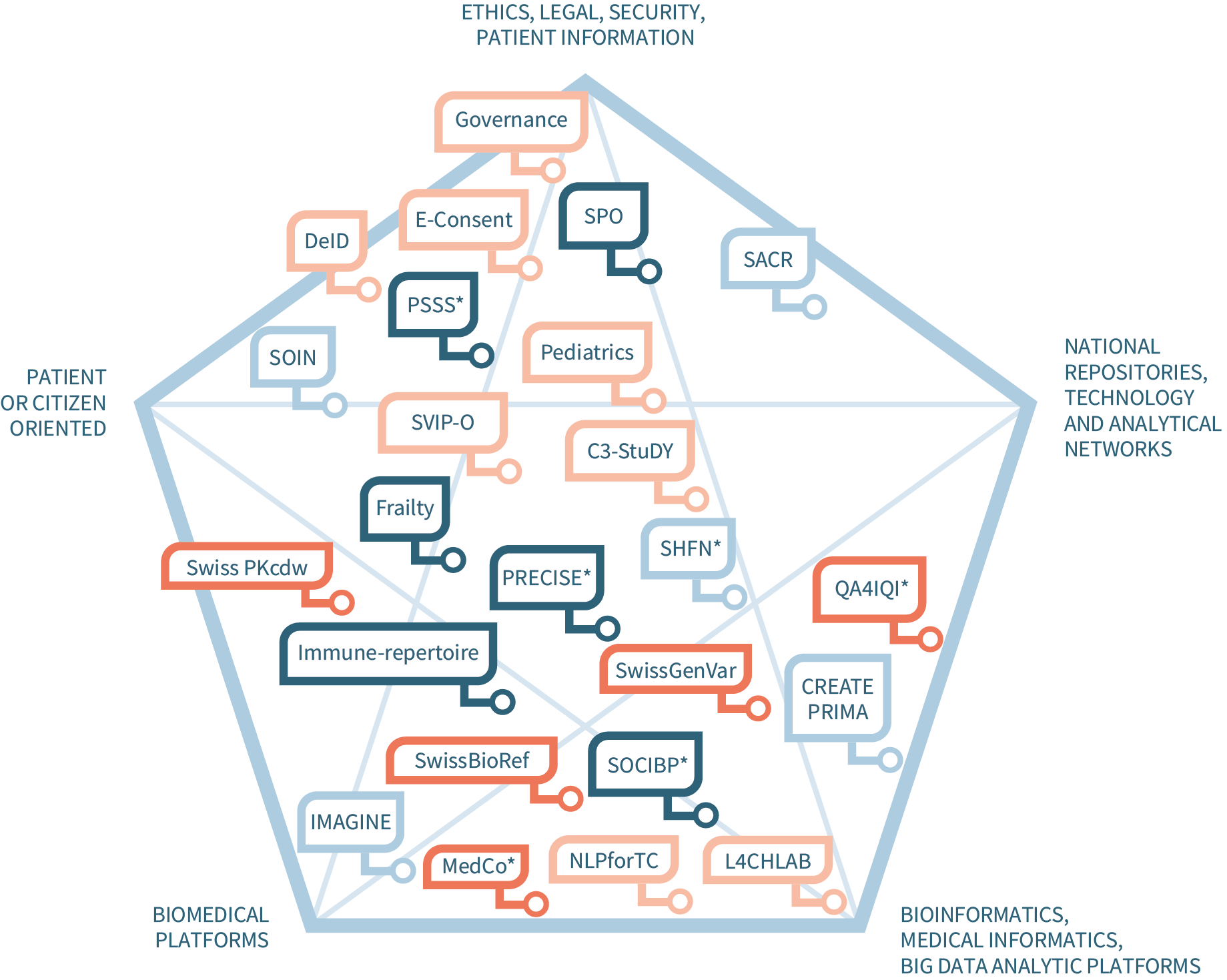 Development of a governance and quality management system for exchange of patient related data for research purposes
Development and Implementation of a Nationwide Harmonized Interactive Electronic General Consent
De-identification of clinical narrative data in French, German and Italian
Swiss Variant Interpretation Platform for Oncology
Harmonising the collection of health-related data and biospecimens in paediatric hospitals throughout Switzerland
Citizen Centered Consent: Shared, Transparent and Dynamic
NLP-powered mapping of clinical reports onto SNOMED-CT concepts for tumour classification
LOINC for Swiss Laboratories
Swiss Ophthalmic Imaging Network
The Swiss Ageing Citizen Reference
SWISSHEART Failure Network
Clinical Research from multi-modality big data sources without proprietary interfaces in a multicenter approach
Radiomics for comprehensive patient and disease phenotyping in personalized health
Swiss Personalized Oncology
Swiss Frailty Network and Repository
Personalized Swiss Sepsis Study: Detection and modelling of sepsis using machine learning to analyse continuous ICU monitoring, laboratory, microbiology, and -omics data for personalized sepsis management
Identification of biomarkers and therapeutic targets in inflammatory disease immunotherapy by high-dimensional single cell analysis and cluster proteomics
Population-wide screens of the human immune repertoire: a reverse personalized-medicine approach
Swiss Molecular Pathology Breakthrough Platform
Optimising paediatric dosing regimens based on a clinical data warehouse
Quality Assessment for Interoperable Quantitative CT-Imaging
A platform for clinical grade interpretation of genetic variants to foster personalized health care in Switzerland
Personalized reference values for precision medicine
Enabling the Secure and Privacy-Preselving Exploration of Distributed Clinical and *Omics Cohorts in the SPHN
Infrastructure Development projects 2018
Infrastructure Development projects 2017
* projets co-financés par SPHN et PHRT.
Source: Rapports d'activités annuels des projets.

Collaborations aux projets
24 SPHN Driver et Infrastructure Development Projects:
35 organisations et institutions suisses contribuent à la recherche.
13 Infrastructure Development Projects:
Développement et test de nouvelles technologies, méthodes et infrastructures sur des sites uniques ou communs, qui seront mis à la disposition d'autres institutions après démonstration de faisabilité (3,7 millions de CHF).
11 Driver Projects:
Orienter le développement du SPHN en "testant" les infrastructures et l'interopérabilité pour la recherche multi-sites dans un domaine ou une pathologie spécifique. Chaque projet pilote implique généralement plusieurs "fournisseurs de données" (principalement des hôpitaux universitaires, mais aussi des universités et des plateformes analytiques) ainsi que des équipes de "destinataires de données" qui analysent les données. Celles-ci sont transférées de manière sécurisée des fournisseurs aux destinataires via le réseau BioMedIT (21,6 millions de CHF).
Cliquez sur l'acronyme du projet dans la partie gauche pour afficher les collaborations au sein de chaque projet. Pour accéder aux résumés des projets, cliquez sur le nom complet du projet qui apparaît au-dessus de l'illustration (en rouge).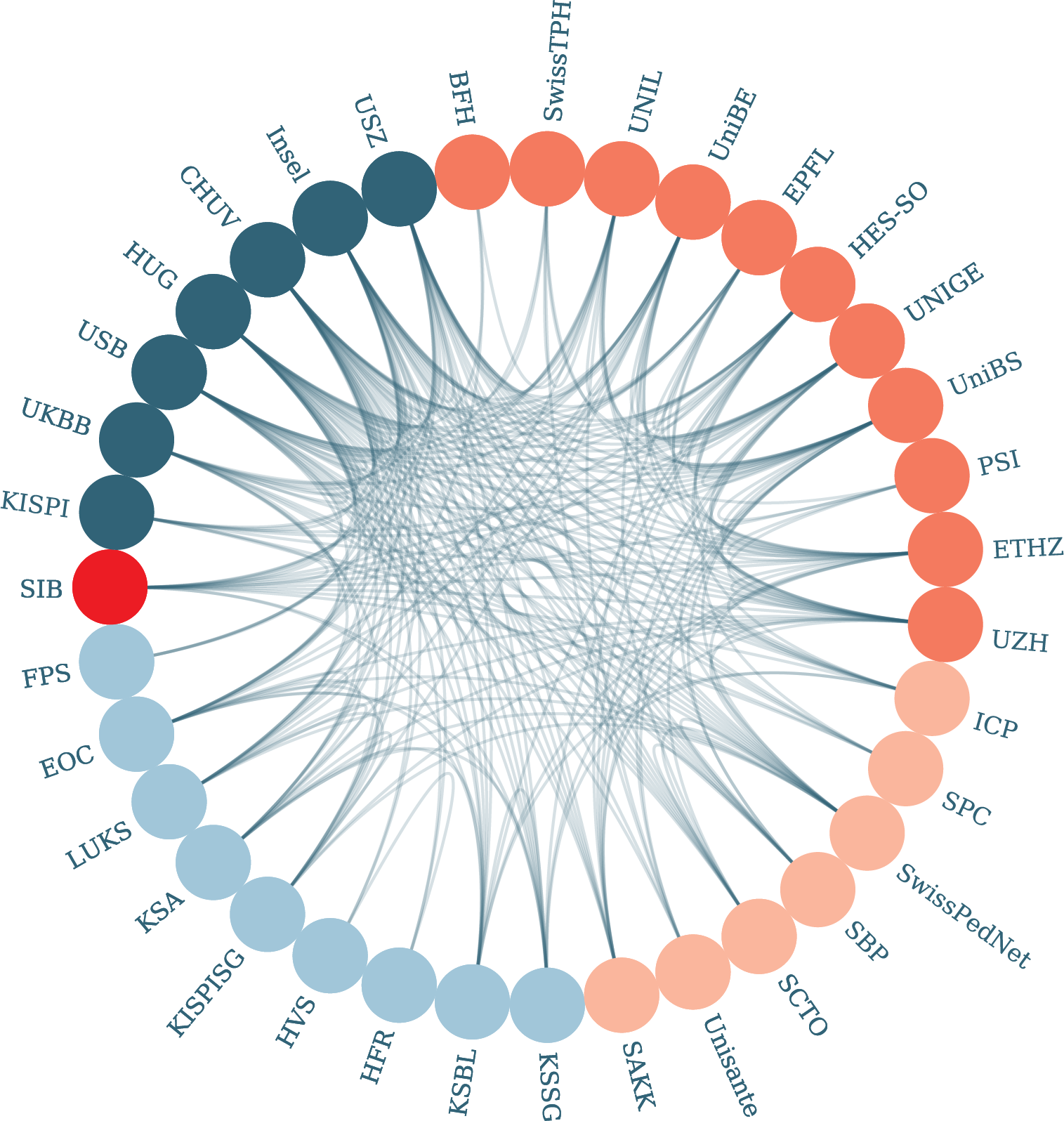 SIB Swiss Institute of Bioinformatics
Universitäts-Kinderspital Zürich
Universitäts-Kinderspital beider Basel
Hôpitaux Universitaires Genève
Centre hospitalier universitaire vaudois
Universitätsspital Zürich
Swiss Tropical and Public Health Institute
École polytechnique fédérale de Lausanne
Haute Ecole Spécialisée de Suisse occidentale
Eidgenössische Technische Hochschule Zürich 
Istituto cantonale di patologia
Schweizer Paraplegiker Zentrum 
Swiss Research Network of Clinical Pediatric Hubs
Swiss Biobanking Plattform
Swiss Clinical Trial Organisation
Centre universitaire de médecine générale et santé publique
Swiss Group for Clinical Cancer Research (SAKK)
Ostschweizer Kinderspital
Klinik für Kinder und Jugendliche, Kantonsspital Aarau
Ente Ospedaliero Cantonale
Universitäre Altersmedizin FELIX PLATTER

Source: Résumés des projets et commentaires des responsables de projets de novembre 2019.