BioMedIT
The BioMedIT network - a national infrastructure to enable secure biomedical data processing
In 2017, the Swiss Confederation launched the BioMedIT network project, as integral part of SPHN. A project of SIB Swiss Institute of Bioinformatics, the secure and cutting-edge IT environment BioMedIT is established nationally to support computational, biomedical research and clinical bioinformatics, ensuring data privacy.
The goal is to create and maintain a national infrastructure resource that can jointly be used by all Swiss Universities, research institutions, hospitals and other interested partners. See the SPHN vision in action.
Governance and Implementation
The BioMedIT Board is the strategic and executive body of the BioMedIT project. It includes representatives from the BioMedIT nodes (HPC clusters), as well as representatives from SIB Management.
Responsible for the coordination of the implementation of the BioMedIT project is the SIB Personalized Health Informatics Group, aiming to provide all researchers in Switzerland with access to a (high-performance) service infrastructure for collaborative analysis of confidential data.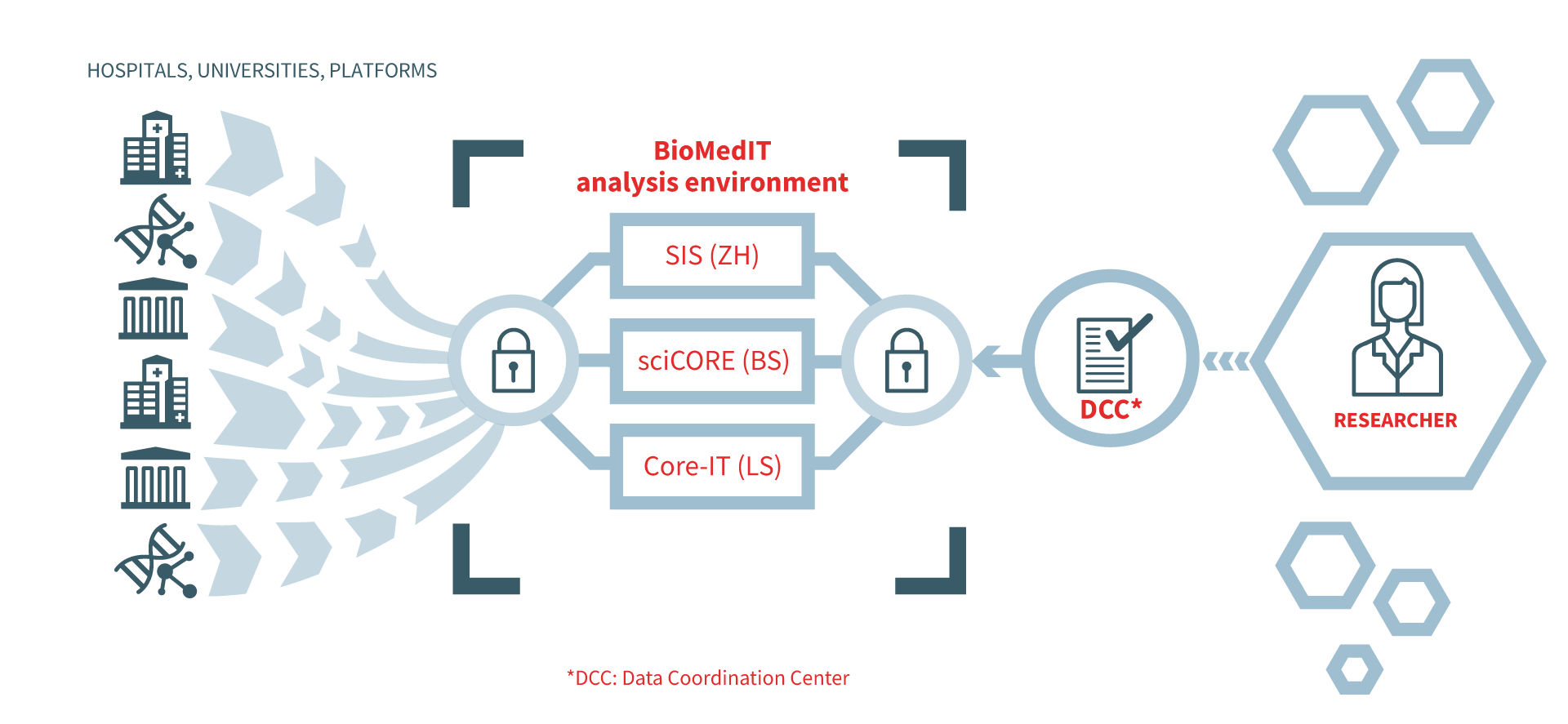 The BioMedIT network builds on three scientific IT competence platforms – the BioMedIT nodes: one in Basel (sciCORE, operated by the University of Basel), one in Romandie (Core-IT, operated by SIB Swiss Institute of Bioinformatics) and one in Zurich (SIS, operated by ETH). Operating under one common Information Security Policy, the nodes form an IT infrastructure network with high-security standards to securely store, manage and process confidential research data.
A central coordination and service layer on top of the three nodes is operated by the Data Coordination Center (DCC). The network can be used by all researchers in Switzerland, independent of their home institution, allowing easy cross-institutional access. In a standardized end-to-end encrypted way, data can be transferred securely from data-providing institutions (e.g. hospitals or technology centers) to the BioMedIT network.
IT Security and Data Protection user training: Researchers/users working with sensitive human data on the BioMedIT project space are offered training (online or a class-room course) and are required to take a subsequent, mandatory exam.
For more information, visit the BioMedIT page on the SIB Swiss Institute of Bioinformatics Website.