The SPHN Consortium on Maelstrom
Switzerland has a long tradition of high-quality cohort studies collecting a large variety of health-related data. These cost-intensive data collections exist mainly as separate entities with little visibility to external researchers. The implementation of the SPHN Cohort Consortium on Maelstrom brings Swiss population-based and disease specific cohorts to an internationally renowned metadata catalogue to increase their findability and usability. The Maelstrom catalogue is already serving the metadata dissemination of more than 380 individual studies hosted within several networks from across the world.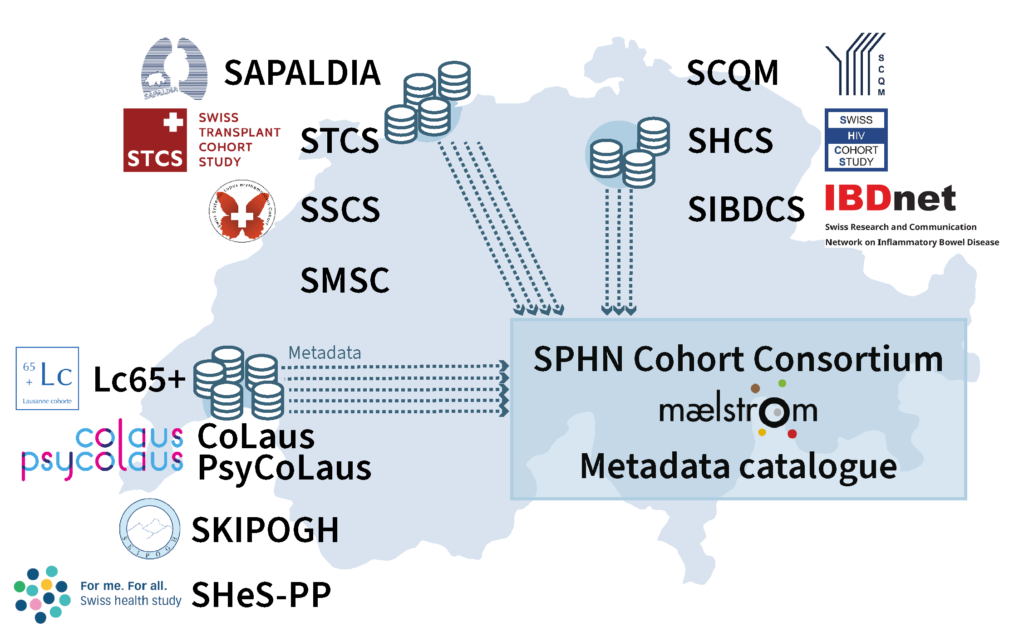 By accessing the SPHN Cohort Consortium Network on the catalogue, it is already possible to browse 12 Swiss cohorts and over 100'000 annotated variables (more variables will be added soon): 
The ability to query each cohort at the variable level allows researchers to easily identify data sets of interests and explore the metadata. It also provides a unique opportunity for cohorts to explore the harmonization potential across multiple studies without having to share the actual data. 
The Maelstrom metadata catalogue in more detail
To foster collaborative research and promote the reuse of data, Maelstrom Research developed a toolkit tailored to the needs of epidemiology research studies. The toolkit consists of a metadata model and a suite of open-source software applications that, when combined, allow the creation of fully searchable, web-based metadata catalogues. The Maelstrom metadata catalogue was deployed to allow the metadata dissemination of over 380 epidemiological studies. The catalogue allows customizable and detailed study descriptions using definite metadata fields and variable annotations based on an in-house classification system composed of 18 domains and 135 subdomains. This flexibility facilitates the reference and extraction of variables by topic of interest and the comparison of domain-specific data collected throughout research, subpopulations, and data collection events. 
For more detail see
Watch the following video to learn more about the SPHN Cohort Consortium on the Maelstrom metadata catalogue and how to query the metadata: