SPHN FAIR Data Tool Stack
The SPHN Tool Stack for FAIR Data Ecosystems supports researchers and data providers in designing a FAIR Data Schema, generating data according to this schema, and validating and analysing the data within a knowledge graph. The tool stack consists of three main components: the DCC Terminology Service accessible via the BioMedIT Portal, the SPHN Schema Forge web service, and the SPHN Connector. Since many data providers face difficulties in meeting the criteria for generating graph data that is both semantically accurate and compliant with SPHN standards, we created a central tool. The SPHN Connector not only reduces the workload associated with data pipelines for university hospitals, but also streamlines the process of integrating new hospitals into the network. The Connector has been developed as part of the SPHN IT architecture strategy led by University Hospital Zurich and the SPHN-DCC. It interfaces with the other components of the SPHN ecosystem and services for FAIR data. Its flexibility allows users to derive data from a simple project-specific input using the SPHN Schema Forge Web Service. The Schema Forge generates a project schema, validation rules, and statistical queries that are then ingested into the SPHN Connector to produce valid RDF graph data for use in the study. The SPHN Connector also facilitates validation, quality checks and de-identification procedures during the transformation process. The presented features of the SPHN Connector are a prerequisite for participating data providers to efficiently and sustainably operate their data platforms.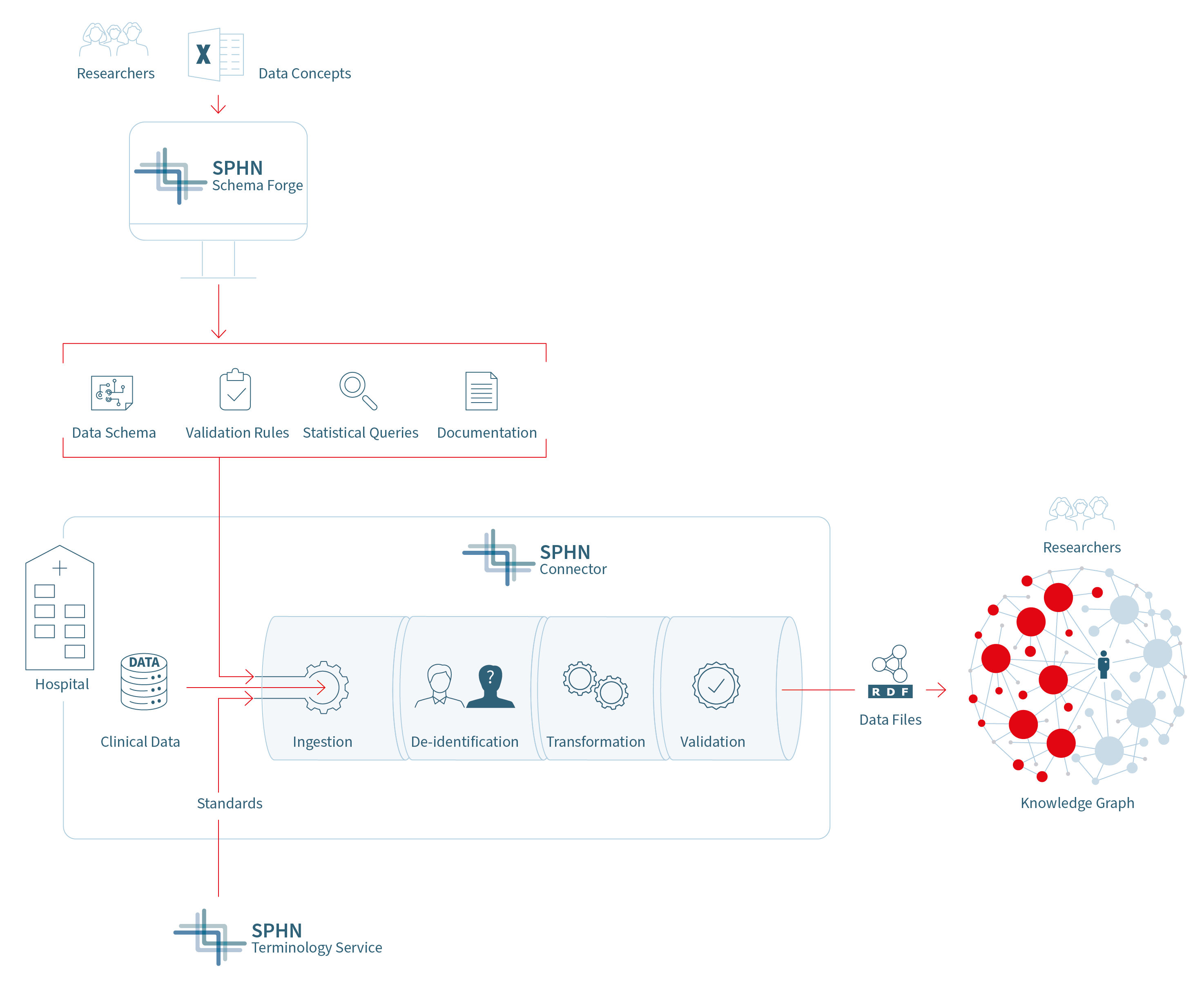 DCC Terminology Service

 

SPHN Schema Forge

 

SPHN Connector

 

The DCC Terminology Service provides FAIR- and SPHN-compatible machine-readable versions of national and international terminologies and classifications in RDF format

 

The SPHN Schema Forge is a web service that generates the project's RDF Schema, validation rules, statistical queries, and a web documentation based on the project's data concepts.

 

The SPHN Connector is a tool for data providers to transform data from the local source into validated RDF data including de-identification and validation of the data.

 
Watch the following videos to learn more about the SPHN FAIR Data Tool Stack